It's time for a fundraising and weight loss update
This loosing 50 pounds thing has me remembering that life can get challenging and sometimes it's hard to do the right thing...
and even though I know that in the past I have believed the world requires me cuddly...
I now understand that for my health I must re-think my current diet and fitness regime...
because after all...
(All personal resemblances in this picture are purely coincidental...this is not me!)
And although progress has not been as fast as I would like and my family are sometimes forced to live with 'dieting ugly'...
I need to remember that...
Again I must point out for copyright issues that this is not me in the picture!
Today I recommit to my challenge in the certain knowledge that...
and even though I sometimes feel...
I must still acknowledge...

an 8 pound weight loss so far

and
remember that...
PLEASE NOTE: all pinterest pictures found whilst sitting on the couch!
8 pounds down...42 to go!
Visit the
50 FOR 50 fundraiser here
and donate whatever you can whilst also checking out the fabulous gifts you may receive! First gift given away really soon so hurry!!!
And here is an amazing update on fundraising to date...
Money raised so far
for Bobby's
Reece's Rainbow fund.
Money raised so far
for the new house build
at orphanage 50.
I need more people to sponsor me though
to stop, 'boo-hoo nobody likes me and not enough people are taking part in my fundraiser' comfort eating! Help me help these kids out at 50 who are in desperate need including
beautiful Bobby
...are you his Mama?
Every dollar gets you 1 chance to receive some awesome gifts!
visit here!
xxxxxxxxxxxxxxxxxxxxxxxxxxxxxxxxxxxxxxxxxxxxxxxxx
It's Forget-Me-Not Friday and time to link up any posts you have about the wonderful children at Reece's Rainbow. Try to visit as many links as you can and leave some comment love...we all need support in this warrior family!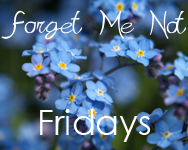 Here is the Forget-Me-Not Friday gallery, a tiny portion of all the beautiful, extra-special children on Reece's Rainbow, each one desperate for a family to love them and save them from the terrible fate of transfer at around 4-5 years old into an adult mental institution, where many children will remain cot-bound forever!
Do please link-up your posts about these children of our hearts. Link up as many times as you like and remember grab the button for your blog to help these children find their forever families!
Click on their name links to visit their individual Reece's Rainbow profile page to find out more or to donate. By donating into a child's adoption fund you help an adoptive family raise the huge ransom it takes to save these children...currently $25,000- $50,000! These children really are on the 'frontline' of need, they need us to help, to sacrifice for them and to care!
.
You do not need to adopt to help. Become a prayer or fundraising warrior for a child, re-post their faces or add my Forget-Me-Not Friday button to your blog and join in the link up. If you are a warrior already then please come and link here weekly on Fridays, let me know beforehand so I can add your child's face to the gallery. Link any post or write using an ongoing writing prompt of 'Forgotten'.
Or perhaps you could adopt? Perhaps you could be blessed by opening up your heart to one of these children? Is your child here?
 


.................................................................................................................................................................