OK so I am fat! Now before anybody starts with the expected responses of, 'oh no you're not you look fab' or, 'oh don't be so silly you're not fat'... you know, those replies that have developed over time to dissipate the uncomfortableness of responding to cutting honesty, then please don't begin on these, i have heard them all and they don't wash! They dont wash because I am fat!
Infact I am so fat whilst playing with the girls in the paddling pool this evening they told me i was like a bouncy castle! And then hubby came out and i asked him to snap some pictures of us all playing, adding, 'please dont make me look fat' and these are the pictures he took...
When quizzed about the weird angles and the hand over the lens he simply reminded me about my request not to look fat...mmm nice! So OK, i am bouncy castle hand over the lens fat, I know it, my kids know it, my very lean husband knows it and now you all know it!
Now i am not saying this as a personal put down, as an 'I hate myself' call for fake compliments, an illustration of how bad i think i am! No i am just stating a fact, I am fat, but i am also a nice person and i have a very clear handle on why i am fat!
My relationship with food stinks! It always has. I am a comfort eater, a stress eater. A yo yo dieter, a compulsive eater and just nuts around food! I have spent a lifetime trying to control this and finally in my late 20's got it fully and utterly under my command for over a decade! However being my obsessions master came at a price and turned me into an utter control freak. I literally became scared to death to allow myself even an inch with food for fear of slipping over the precipice again!

Me 6 years ago and in control with a capital C!
But then i got pregnant, overiding joy was accompanied with the bolted doors on my control being unlocked. 'Hey relax a bit about this food thing', 4stone later i came home with Tilly, overjoyed to be mum but more than a little horrified at the impact on my body!
I soon got to grips with the situation though as control freak resurfaced to loose 2 stone with great effort. There was no breastfeeding. 'ooo the weight just fell off me' stories to tell in my house. I dieted and ran every blumin ounce off! Hours of situps with the dog climbing on me trying to gain attention over this new baby, and hours of power walking with buggies and friends in the rain. Daily running, even though the doctor said it was too soon, i would not be told, I had to find myself again under this cloak of fat.
And then the weight loss stalled when Tilly was 5 months old, whats going on! That would be me being pregnant again! GULP!!!
And another 4 stone later I came home with Poppy, equally overjoyed at my second angel but now 6 stone away from who I wanted to be!
So control freak was unleashed yet again and by the time Poppy was 1 I had got nearly 4 stone off, there was going to be no messing around this time! Weekly running mileage began to creep back towards 40 miles a week and things were beginning to feel familiar again...and then Oct 2008 hit! Smith Magenis WHAT!!!! You cannot be serious! And the personal bomb of a shock diagnosis tore through mine and my family's world, creating havoc in its wake!
Running was abandoned as i shook with grief for over 2 years and compulsive eating took a hold to transfer the pain, to take my attention elsewhere! As I said I am a stress and comfort eater and I needed a big cushion of comfort as I drowned in stress. I was now countless stones away from myself and beginning to feel like a puddle person...i must get this under control and the week i decided to stop my eating madness and sort myself out i found out I was pregnant again! YIKES!
Yes i was overjoyed yet again, my golden boy was sunshine at the end of the long dark tunnel we had travelled through...but who the hell was that person staring back in the mirror at me?
And now that compulsive eating, fat-life mentality has become a habit and i am tired...really tired. Busby doesn't sleep, Tilly has never slept and i cannot even remember a morning when the clock didn't say 5 o'clock when i get up. None of this helps with new life goals and weight loss campaigns. I had resigned myself to being a fat mum forever, but it stinks and i hate it!!!
And then Francine came into my life, my excess contrasts painfully with her life. It makes me take stock and want to make changes that are more than just about getting thin!
So i am now hitting the weight loss campaign with gusto and if i am going to post pictures like this on here, (yes can you feel me cringing!)...
...then i want to make my public shame worthwhile. My weightloss will be of the sponsored variety, all for Francine. I want sponsoring to get rid of this fat, i want sponsoring for getting up even earlier to run my fat backside around cold streets but most of all I want Francine to be fully funded and in a forever family,
and i will literally work my butt off to make it happen!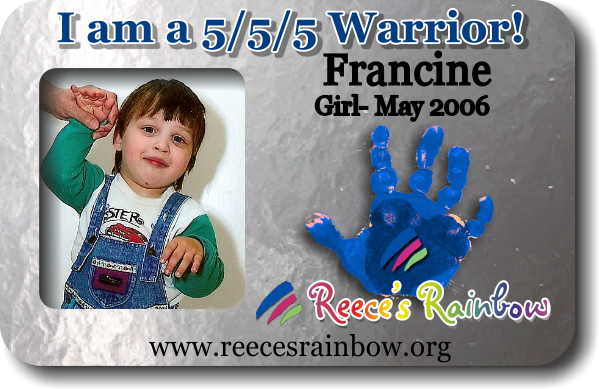 Grab This!
If you think I am brave for posting about something that actually makes me shudder with shame, my achilles heel, my demon in the closet, then donate $5 now! If you can't get you head around the thought of 4 o clock get ups to go running then donate $5 now! If you can feel my heart in this and my love for Francine, a little girl miles away who consumes my thoughts then donate $5 now! Leave me a comment in the box below and I will randomly select somebody every stone I loose for a giveaway of my artwork! oh and by the way there are 3 and half of those big nasties to loose, as I am 12 stone 3 and want to return to my 8stone 9 weight! If anybody wants to join in with me for Francine then I would be amazingly thrilled to have some blogworld friends to share the adventure with and I would happily link up to your blog as we do it. We could be blogworld blobbies!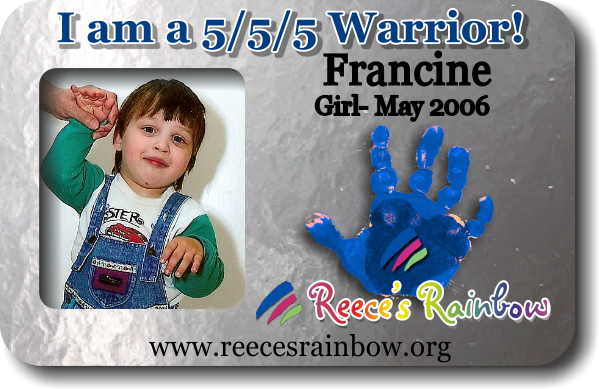 Grab This!
Your small (or large) donations are really such a tiny thing to do in the scale of things but could bring about one huge and shiny bright miracle for a beautiful little child. It could be my Tilly in Francines position...my soul cannot escape the chaos that this thought is bringing. With much love and salad eating grumbles xxx