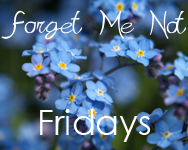 Here we go, the first set of writing prompts for Friday's linkup!
1.What makes you smile? Can you capture it in words and make us smile as well?
2. Mind the Gap! How is reality different from your dreams?
3. Make a list of what you would like to achieve before your next big birthday!
4. Forgotten.
Or simply link up your favourite post!
Come back next Friday and link up! If you are using a writing prompt then please grab the button and add to your post.
If you are a warrior then let me know before Wednesday that you are taking part so I can add your child's face to the gallery.
For full details of Forget-Me-Not Friday and how to take part then please read the page at the top of my blog.
Love and hugs x