OK so a little late but here are this weeks writing prompts for Friday's linkup!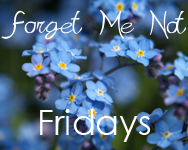 1. Forgotten
2. Tell us about a time you were so excited you screamed!
3. If only....
Or simply link up your favourite post!
Come back next Friday and link up during Forget-Me-Not Friday! If you are using a writing prompt then please grab the button and add it to the bottom of your post, so others can find us.
If you are a warrior then let me know before Wednesday that you are taking part so I can add your child's face to the gallery. And Warriors feel free to link about your child and if you want to link up more than once with a writing prompt then that is fine as well!
For full details of Forget-Me-Not Friday and how to take part then please read the page at the top of my blog.
Families fundraising to bring a child home, you can link up as well! Do join us!
Love and hugs Jane x